$

229.00

AUD
Serpent Tongue - Blendable Chainsaw Distortion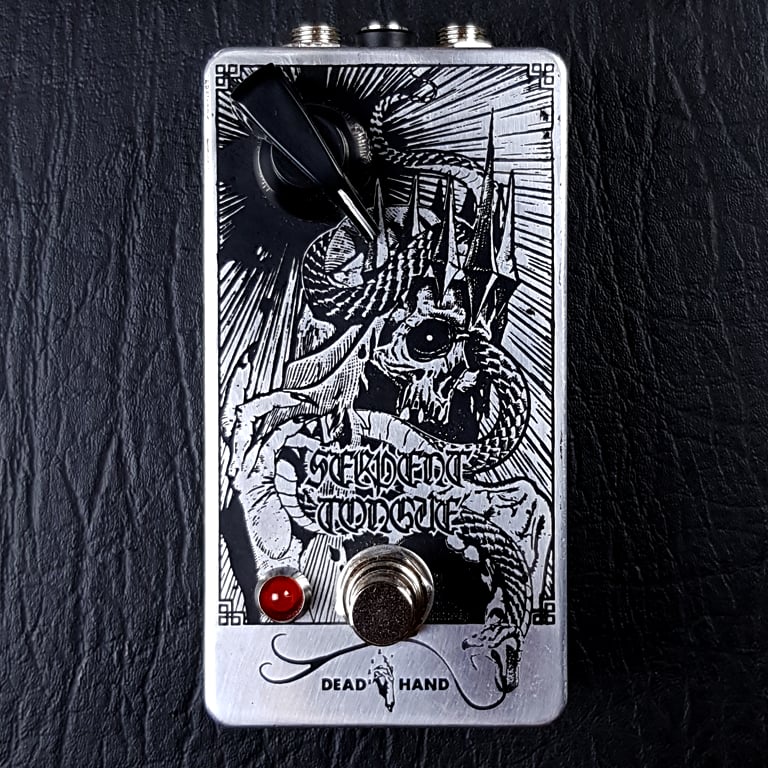 HM2 with clean blend
---
We worked with Australian blackened death metal outfit
Earth Rot
to faithfully recreate the unbridled snarl of the the classic HM2, with settings fixed on full blast as Satan intended. We also talked to a number of other HM2-using bands and studio folks and one request kept cropping up: a clean blend knob. The Serpent Tongue lets you blend in as much or as little chainsaw as you like, from just a hint of crunch to the full force of hell's roar.
This pedal is proudly built & tested by hand in Australia and has a chemically etched, bare aluminium enclosure featuring the rad artwork of Oscar Bonin. As such, some variances and blemishes in the etched finish should be expected.
---
CONTROLS
- Blend knob:
Turn anticlockwise to blend in your clean signal with the Serpent Tongue's distortion. Fully left: clean signal only. Fully right: Serpent Tongue only.
Dimensions: 59 x 116 x 49mm (2.3" x 4.5" x 2")
Weight: 194g (6.8oz)
Current draw: 15mA

9V DC barrel positive, center negative power adapter required - no battery option. We recommend a high quality isolated power supply eg. Strymon, Truetone (1 SPOT Pro models only) or Voodoo Lab. Damage caused by improperly powering your pedal is not covered by our warranty.
Pedals ship within 5 working days when in stock
Dead Hand Audio and Earth Rot are in no way affiliated with Roland Corporation or Boss Corporation.